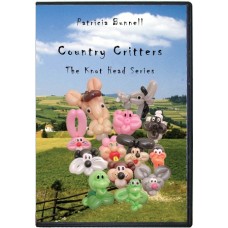 Availability:

Pre-Order

Product Code:

DVD

SKU

1021

Brand:
Country Critters Patricia Bunnell - DVD
Patricia Bunnell's first DVD release introduces her unique "knot head" approach to adding nice detail to sculptures in a quick, easy manner. Her technique isolates the head structure and the facial structure, making it easy visualize and create a wide variety of creatures. Her step-by-step approach to teaching her technique introduces each head structure separately and applying the knot head approach to create the complete structure. Her technique is simple and quick enough to be used in restaurant or line-work.
The DVD contains: Howdy, Cat, Duck, Beaver, Turtle, Mouse, Bunny, Lamb, Dog, Baby, Frog, Horse, Pig, & Donkey.
Write a review
Note: HTML is not translated!
Continue
You must have purchased and are logged into the site