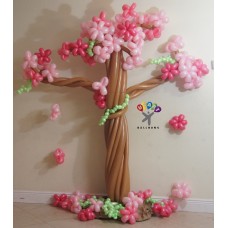 Product Code:

Online

SKU

454500

Brand:
Cherry Blossom Balloon Tree
Video tutorial on how to make a complete Cherry Blossoom Balloons Tree.
You can do a complete Cherry Blossom Tree balloon sculpture by yourself with this online class, it is great for any type of event and for all ages.
This video tutorial is a step by step show materials, frame and how to make and add balloon flowers to your Cherry Blossom Balloon Tree.
Having balloon classes online you will save time, save money and get free online support.
Write a review
Note: HTML is not translated!

Continue
Módulo 1
1
Cherry Blossom Tree - Materials & Frame
25:55
---
Módulo 2
2
Cherry Blossom Tree - Trunk
34:58
---
Modulo 3
3
Cherry Blossom Tree - Flowers
26:36
---
You must have purchased and are logged into the site